Junior Branch Director
The JB Director sits on the CISV USA Board of Directors and works as an advocate for Junior Branch. They work directly with the NJRs to keep up to date on all JB news and events.
Meet the JB Director!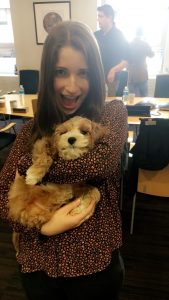 Critically-acclaimed puppy lover Rachel Buff has been actively involved in Junior Branch for 12 years, growing up in the Jacksonville Chapter. She is currently serving her second term as JB Director, the JB liaison on the CISV USA Board of Directors. She has previously served as a National Junior Representative, a member of the National Mini Camp Committee, and an LJR. In the real world she is a law student at the University of Michigan Law School and an accomplished wearer of scarves.