National Mini Camp Committee
The National Mini Camp Committee plans the National Mini Camp – logistics, content, and activities!
This year's National Mini Camp will take place in Detroit, Michigan from May 24th to May 27th, 2019.
The location of NMC changes from year to year but always takes place on Memorial Day weekend.
2019 – Detroit, Michigan
2018 – Brandywine Valley, Pennsylvania
2017 – Austin, San Antonio, Texas
2016 – Pittsburgh, Pennsylvania
2015 – Smoky Mountain, Tennessee
2014 – Dallas/Fort Worth, Texas
2013 – Detroit, Michigan
2012 – Brandywine Valley, Pennsylvania
2011 – San Francisco, California
2010 – Cincinnati, Ohio
2009 – Atlanta, Georgia
Meet the Committee!
Bryan Christopher Boro is a Junior at Bentley University near Boston, MA majoring in Creative Industries and minoring in Psychology. At school, Bryan is involved in various clubs, serves as an Orientation Leader, Student Fellow for the Center for Women and Business, and works as a Video Production Assistant. Originally from the Brandywine Valley chapter, Bryan is now helping establish the new Boston CISV chapter. Bryan has been to five international programs and in the Junior Branch has been local JB President, staff of the CanExUs leadership workshop, member of the National Mini Camp Committee, NMC Chair, and now NMC past-chair! In his free time, Bryan enjoys rock climbing (he also works at the local climbing gym), playing/watching soccer, photography, watching TV (fave shows include The Good Doctor, Broad City, Last Week Tonight, and Parks and Rec). Bryan also has a (some may say "unhealthy") infatuation with Ed Sheeran. He's very much looking forward to helping you all understand why Ed Sheeran is the greatest music icon of all time in May at NMC in Brandywine Valley, PA!!
Hey guys! My name is Liddy and I am from CISV Brandywine Valley chapter. I am a senior in high school and currently serving as my chapter LJR and I am so so so excited to be a part of the NMCC this year!! CISV plays enormous role in my life and I have been involved in it since I was eleven years old. But aside from CISV, I love traveling, coffee, hiking, the ocean, and doing almost anything out in nature. I am obsessed with the Danish concept of Hygge, which essentially means chilling out and being cozy, so I love wearing big warm sweaters, baking, rainy days (partially because I have a funny yellow rain jacket) and snuggling with my two cats. Being a true Philly girl, I can never say no to a good Italian hoagie, or a soft pretzel. If you're ever looking for me, you can usually find me in my local Wawa, or you can find me in Detroit on Memorial Day Weekend. I can't wait to see you all in May!!
Dani Jordan is a sophomore in high school from the Pittsburgh Chapter. She's been involved in CISV since she was twelve years old, doing a village in Brazil and two Step Ups, one in Tennessee and another in Lithuania. For the past two years she's been on the JB board for Pittsburgh serving a term as the historian last year and the Secretary this year. She loves to cook and listens to all types of music. She also loves to dance pretty much anywhere and uses her mom's old bike as a major mode of transportation. Outside of CISV she spends most of her life rowing and on the weekends she works at a local bakery in Pittsburgh. She's very excited to be on NMCC this year and help plan National Mini Camp.
Aloha, My name is Lauryn Czarina and I am from the beautiful Golden State, California. I previously served as LJR of the San Francisco/Bay Area chapter but besides that I have been active with CISV since I was 11. I attended village in Mexico City, Mexico and was recently a JC in Brussels, Belgium. I'm a freshmen at the University of Hawaii at Manoa studying accounting and computer science. Outside of CISV, I love to do anything that involves nature especially going to the beach! I am also apart of a sorority called Phi Mu! If there is one thing to know about me, is that I absolutely LOVE waffles! I can't wait to meet everyone at NMC!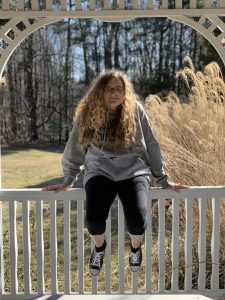 Hi, I'm Abi and I'm on the NMCC this year. I've been involved in CISV since I was eleven, and am currently the co-LJR of the Chattanooga chapter. Outside of CISV, I'm a senior in high school, and very exited to be moving on to college. I'm a huge theatre buff, and have been acting for as long as I can remember. I hope to complete a B.F.A in Theatre and a degree in International Relations during my time in college. I love singing and cold weather, despite me living about as south as you can get. Feel free to email me or shoot me a text!
Hi JB USA!! My name is Ross Rubin and I am a current high school senior in Dallas, Texas (part of the DFW chapter). I absolutely love CISV and participate as much as I can. When I am not doing CISV, I love hanging with friends, binging Black Mirror and Big Brother episodes, and listening to music (country music preferably) I am part of the NMCC and NJGB and I am so excited to have a great yearJ.